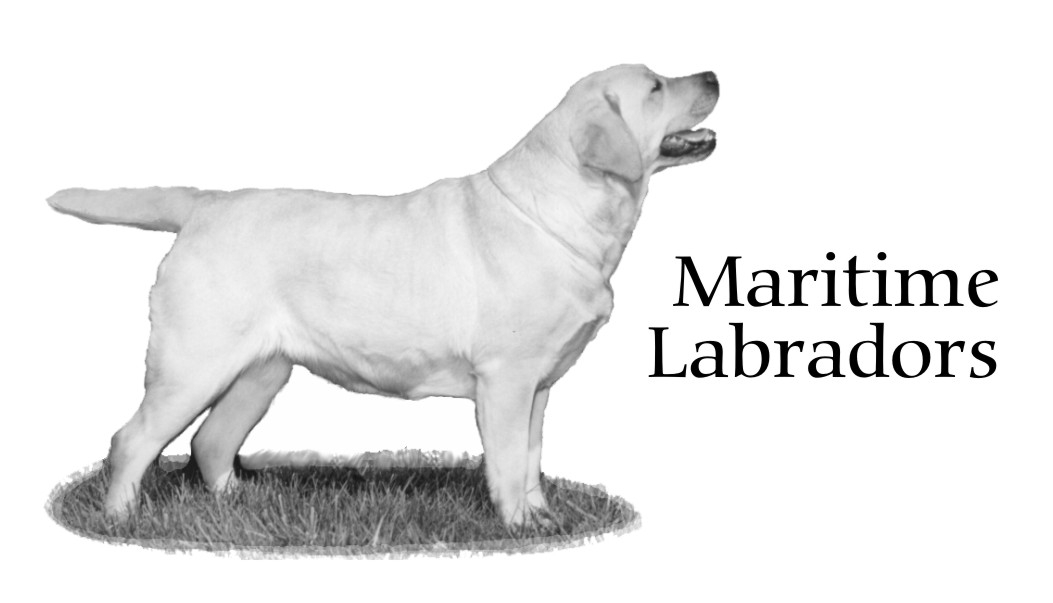 Welcome to Maritime Labradors. We are located on 18 wooded acres in northeastern Connecticut. Maritime is a small hobby kennel devoted to the tradition of the versatile Labrador Retriever. We are an AKC Breeder of Merit. The Breeder of Merit Program honors breeder/exhibitors' dedication and hard work as they continue to produce dogs that are healthy, capable, and beautiful. The foundation of today's AKC, Breeders of Merit have the power to influence, guide, and teach future breeders, exhibitors, and all purebred dog owners.
The labradors of Maritime compete primarily in conformation but when time permits obedience, rally and hunt tests. We feel it's important that our dogs are versatile, and we have both AKC Show Champions and AKC Hunt Test titled dogs. We pheasant, duck and goose hunt with our labradors and are active members of Yankee Waterfowlers Hunting Retriever Club and belong to two Labrador Specialty Clubs and parent club Labrador Retriever Club, Inc.
At Maritime health and temperament are top priority and all of our breeding dogs are OFA hip, elbow and heart cleared by echo, EIC, HNPK, CNM, PRCD or Optigen tested and annual CERF exams.
We are breeding for the continuation of our kennel and the betterment of the breed. We select for ourselves the show quality puppies and the rest of the litter is available to companion homes. Our puppies are raised in a home environment. All of our pet puppies are sold on AKC Limited Registration with first set of vaccines and an eye exam. 
If you are interested in acquiring a puppy or young adult dog from Maritime, please e-mail us directly from the website and/or call. In turn we will forward our Family Information form. From time to time we have young adult dogs available – pups we kept from a previous litter.
Please enjoy our website and viewing our labadors. We update often with news of new champions, new titles, upcoming litters, and new additions to our kennel.
We enjoy visitors to see our dogs but by appointment only please.
Thank you for visiting Maritime.
Email:  jjussaume@sbcglobal.net and tel. 860-933-3599